Tyler Shields holding actress Jayma Mays

Sooo Tyler, you are a Photographer/Music video director based out of LA…
Talk me through a typical day in the life of you?
Well everyday is nothing like the last and the only thread is that I know I have no idea where I may end up, a lot of shoots go on and a lot of people do a lot of crazy things!
And how long have you been working in the industry?
About 9 years now.
When, if you can recall, did your love for Photography/Directing begin? And how did you start off in the industry?
I started really wanting to direct when I was 15, I knew it was something I had to do. I view photos to be the same as directing, just a different camera getting the same thing.
Can you cite any Photographers/Directors as having influenced your work?
(Are you a fanboy of anyone working in the industry today)
I am not. I have always had my own idea of what I liked and just stuck to that but I respect anyone who does this, I know how hard it can be to break in.
So, what are you trying to achieve when taking a photo/capturing a moment?
Emotion is a big part of it. I want the people in the photo to feel something and the same for the viewer.
Geeked out question: What is your camera of choice?
I have used many but I suppose canon is the best for the way I shoot.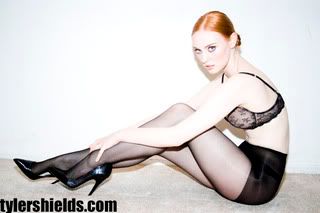 Now, every other week you seem to have a newly appointed member of 'Young Hollywood' walking through your door, willing and eager to do what it takes to get that great shot! Are the shoots always as effortless as they look?
Yes everyone has a good time, some people get nervous or scared before but once they come in the door and we get going they get very into it!
I am also impressed that 9 times out of 10, the actors that I am seeing for the first time in your prints then go onto star in great shows/films. Brie Larson, who stars in United States of Tara is a prime example. Where
do you find these guys? Or do they approach you?
(the 1/10th is Kyle XY, never really got into it)
I am not interested in celebrity, I am interested in talent and talent seems to shine though... I enjoy picking people early and watching them grow.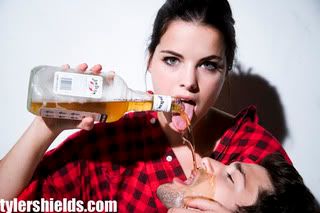 Has Matt Dallas recovered from being buried alive? *smiles*
He just texted me, we're hanging this week - I'll let you know.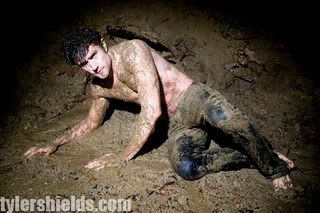 Who has been your favourite actor to shoot?
Oh that's tough, I love them all in different ways! I suppose I have a go-to group; Matt Dallas, Haley Bennett, Zachary Quinto, Candice Accolla, Elena Satine, Alessandra Toresani, Juno Temple, Shiloh Fernandez and there are more but that's a core little group of people who are over a lot!
You have worked with a gazillion and one talented individuals but who haven't you worked with that you would love to shoot? (Top of your wish list please?)
A lot of people as of late have been trying to get me and Brad Pitt together - I think we would do some crazy things! But there are so many people I want to work with... also Keira Knightly.
Do you have one photo or print (taken by yourself) that you are most proud of?
I have a few in my house that you can only see if you come into my house but for me I am always most excited about the next shoot or the thing I haven't done yet.
The Dirty Side of Glamor." I'd like to know more…?
The Dirty Side of Glamor is the new book I am working on. No release date yet but it is going to be insane, it is such a fun project to work on and it has been years in the making to say the least… the day it is finally finished I will be very happy!
And the term: Celebrity. What does it mean to you?
Celebrity can mean many things, like I said before, I would rather have talent then just Celebrity. Some people are famous but why are they famous?
Lastly Tyler, how does one apply to work for you? Will purchasing a one-way ticket to LA and turning up at your studio door do?
If you did that you'd be waiting on the porch fight club style! I am very intense about who works for me... I feel like Willy Wonka sometimes trying to keep all the secrets!
I am sooo buying that ticket!