Soooooo Jenny, what made you start with the 'sketching of the bands' at gigs?
Well firstly I love music in a variety of different ways, and am much intrigued by how it can manipulate and inspire our imagination, emotions and physically too - it fascinates me how it can infiltrate our space and thoughts, even after the music has stopped. Music has always motivated some aspect of my immediate existence whether to dance, sing, create, write, process thoughts - there is no such thing as 'doing nothing' when music is present.
Secondly, I enjoy the challenge of the impromptu and having to adapt to the immediate situation. I love being in that emotional zone where I lose my sense of self. I get a kick out of not knowing how the drawing will turn out, and what words will be noted down that tie the picture into the time it was created.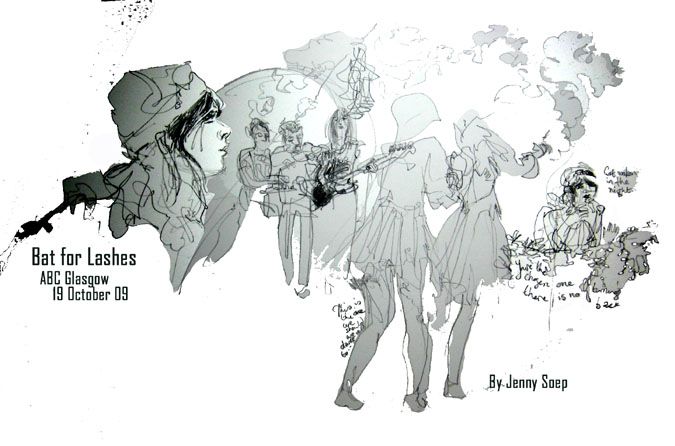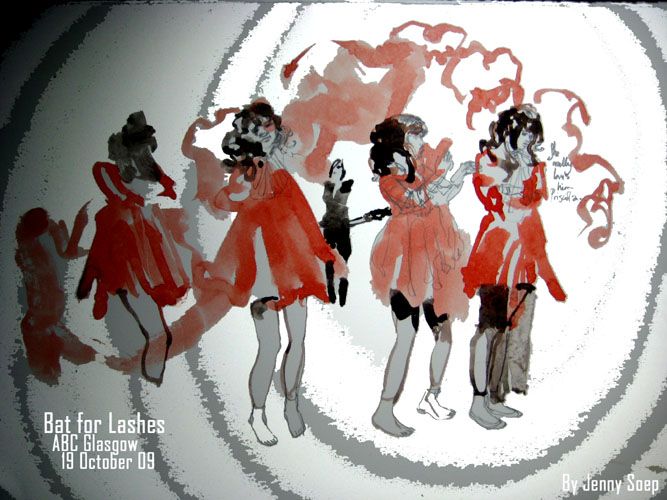 How long have you been doing what you do and do you plan to do more of what you do until you do do?
Do-do-do-do-do
I've been doing it ever since 2000 during the Dundee Jazz Festival, and I plan on continuing as long as I am able and can improve. I have also drawn a lot of other 'creative happenings' like theatre, poetry readings, circus/performing arts, and real life. I enjoy drawing out the character of a situation or scene, through the artists performing their creations.
So do you make a conscious decision to go to certain gigs because you would like to capture favourites on paper?
Absolutely, 99% of the gigs I draw at I've found out about and organised with the musicians themselves, the promoters or the venues. Different types of music will inspire me to respond in different ways, and I like to see how the music has inspired a certain style of drawing. There are folks out there who do what they do purely to be the centre of attention and without much creative input. I'm sure it would be interesting to draw this out of morbid curiosity, but my soul despairs of it.
And is there an artist or a band in mind that that you are yet to capture but are desperate to compliment with your box of watercolours?
I really wish I'd got to draw Michael Jackson. Asides from that, there are plenty of musicians I would like to draw should the chance arise: Patti Smith, David Bowie, Arcade Fire, Stevie Wonder, Radiohead, The Yeah Yeah Yeahs, The Killers, Neil Young, Nick Cave, Wilco, Ben Gibbard, Annie Lennox, Florence & The Machine - there's a loong list. There's a few I've already drawn that I'd love to draw again too. I've drawn Jeffrey and Jack Lewis 3 times now.
A highlight for you?
Well, there's been quite a few. This year in particular the immediate highlights that spring to mind would be David Byrne at the Royal Concert Hall, Efterklang at the Oran Mor, and by jeezez The Flaming Lips at the 02 Academy.
Meeting Wayne Coyne and drawing at the soundcheck was cool, but being slap bang in the middle of the audience at front of house, experiencing all the balloons, confetti, streamers and amazing musical experience was incredible. It was a total brain bender.

There must be a fair few difficulties that arise for you when trying to sketch at live gigs, no? What with crowds and drink and drunken crowds all around you….
I hope that any 'difficulties' become integral to the pictures. For example, drawing the Flaming Lips, due to health and safety and the fact that the FL have so much junk on and off the stage, there just wasn't room for me. So I had to draw from front of house in between the sound and lighting chaps. It was a great view though, especially of the whole audience reacting and experiencing the show. It was one of the most amazing gigs I've ever been to, and I wouldn't have experienced that mass 'high' had I been in the press pit or on stage.
Mostly every time that I've drawn with any audience surrounding me, no matter what state they're in, they've been absolutely lovely. My weirdest drawing experience recently might have been with Les Savy Fav. The singer Tim, who's renowned for his off the wall performances, was getting up to all sorts.


He clocked me drawing him on my phone* at one point and jumped up right in front of me, took my phone, drew a complimentary cock and balls on it and then gave me a big sweaty bearded kiss. That was rather unexpected - his make up was still on my face after the show. *(ps for those that don't know, I've got a drawing programme on my phone - a great invention!)

So what is in store for Jenny Soep over the next year? Anything exciting you can share...
Well asides from drawing specific musicians/bands I've got quite a few plans that involve a few music and theatrical experiments, a couple more specific exhibition/drawing live music events, plus I'm going to get back into my passion for drawing cartoons, or at least illustrated stories, which is what I got 5 years of education for! I really want to get involved in an animation in the New Year too.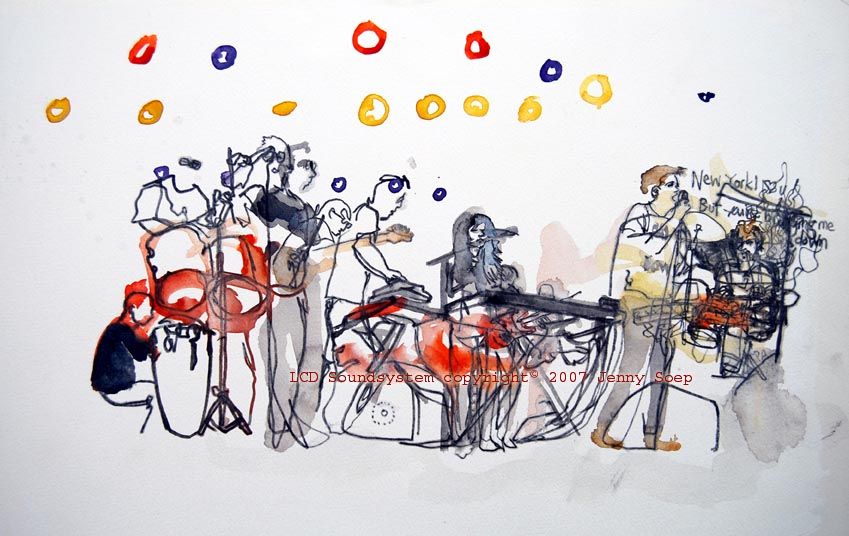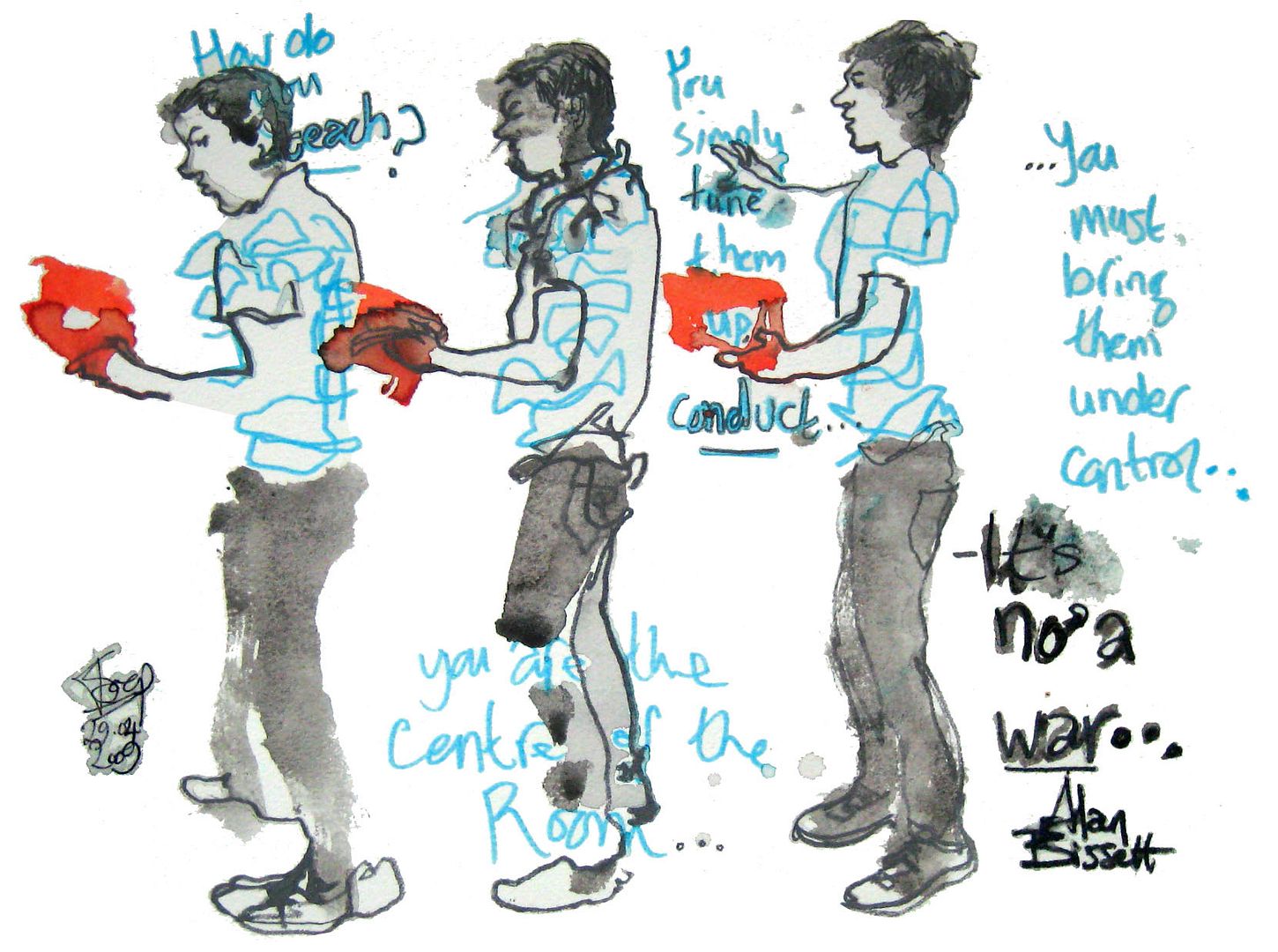 I also want to mention that there will be an exhibition/auction in the Music Library in Edinburgh to raise funds for Nordoff-Robbins Music Therapy with artworks by a lot of the Fence Record folks, Gordon Anderson, Douglas T Stewart and something by me too. It will definitely be worth a look.
I also teach drawing workshops and hope to continue my work in schools. It's a very levelling experience!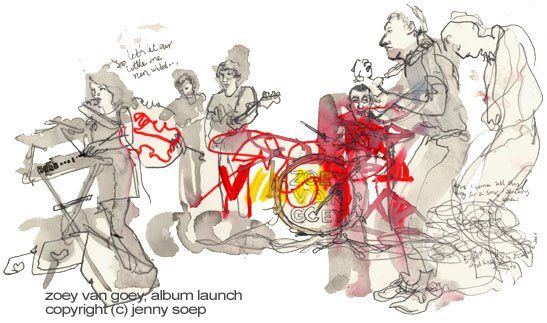 I noticed on your website you also write poetry, is there plans to present your writing to the world?
It's still getting written. I do write quite a lot. I've written songs and poems since I was little and even put a couple of them to music. I'm fascinated by structures, sounds and how a word can tell a thousand pictures. I made a book of poems for my MA but found it a challenge to create illustrations for it since I felt the poems already illustrated themselves. So I just had fun with what I'd drawn during the same period, putting settings and characters together.
I've got two main styles of drawing but am most known for my quick 'in the moment' sketches. I've also got a drawing style that's really detailed. I don't do too many of them, as it's only particularly chaotic environments I draw, or places that exemplify a person's character by their structure and habits. They're fairly cathartic pieces. As is the poetry. My aim is to exhibit the two styles of drawings and poetry in the same venue in the near future, to get an idea of my creative processes and their by-products.
Where are you based?
Glasgow, but I do manage to get about a bit. Glasgow is great for reaching the rest of the world. And obviously, the music scene here is a big draw... (badum-tish!)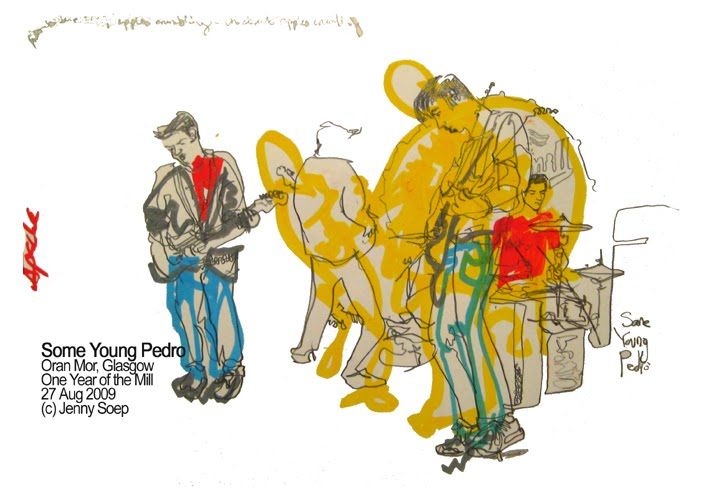 Favourite gig in 2009?
Very very close between Flaming Lips and David Byrne. Reckon FL beat DB purely on audience interaction, balloons and confetti :)
And to close, Jenny would you please describe yourself in only 3 fabulous words…
Adventurous/Contradictory/Drawer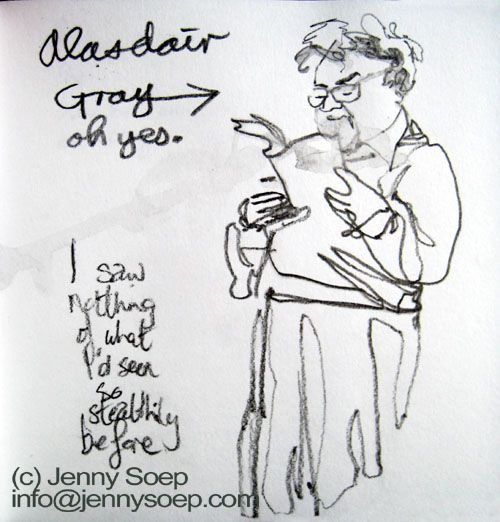 Bravo Jenny! Bravo!
jennysoep.com
jennysoep.blogspot.com