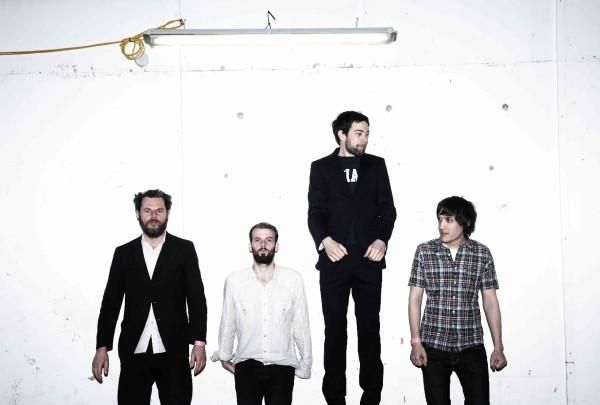 Please introduce yourselves?
Hi we're Player Piano. Mostly created and maintained by myself, Jeremy Radway, but live and sometimes in the studio I'm joined by Yuuki McClure (guitar), George Hider (bass) and Ed Grimshaw (drums).
Our sound goes quite a few different places, I think we're into a lot of different things, I have a few personal obsessions: David Bowie, early Funkadelic, Electric Light Orchestra, Talking Heads and Sly and the Family Stone. So there's some rock, some soul, some grandness and some weirdness.
We look pretty band-y these days. We kind of fit the A-Team mold: Yuuki is probably Face. I'm probably Murdock. That makes George Hannibal, which I know he won't be too happy about, but Ed is definitely BA Baracas. Ed looks like he could kill you but he's actually a very gentle man. He's like a trained bear, we just have to keep him fed, or things get nasty...but as far as I know he's ok with going on planes.
If your band were a film you'd be?
If our band were a film - Raising Arizona? It has virtually nothing to do with us as a band but it's my favourite film.
The song that makes your heart skip a beat is?
I'm a sucker for old soul tunes. Donny Hathaway doing Jealous Guy by John Lennon on his Live album. Pretty much as good as it gets.
Your favourite kind of pie?
That's such a loaded question. My people are originally from the South, I was born in Atlanta. Pecan Pie, my man.
Can you describe the Player Piano sound for anyone who happens to be deaf?
Uhhhhhhhhhhhh...so visually...imagine a bunch of dogs wearing little dog clothes sat around a small table having a very civilized tea party... that has nothing to do with the answer to your question, but it's an image that helps me find inner calm.
And when can we expect a new Player Piano record?
Our record is provisionally coming out on a micro-indie label sometime in October. We've been in pre-production for a while, but are going into the studio in May for the bulk of the work and will have things to hear in June. Releasing always takes ages but we promise to have some new tunes for listening asap.
Can you pitch it in 3 easy to digest words?
3 words: Dog. Tea. Party. ...says it all...
What inspires the PP sound?
Lots of new stuff has come into the listening frame for me, a lot of electronic music, old and new, so there's some of that on the new album, Hall and Oates, Junior Boys, Silver Columns, Hot Chip, Can, Phillip Glass...but I'm always centered on the tune. My music is about songs, melodies, in a somewhat traditional sense, to my mind. So I try to make that clear in my songs, so it stays with you.
And feel free to talk up an artist you wouldn't mind collaborating with?
I want somebody to remix our shit! I've got a few things in the pipeline... (not really, I just like that cliche), I heard some of Silver Columns' remixes they were working on - pretty amazing stuff. I might ask them to have a go, if I can pin them down, busy fellas...
Are you referring to sexual intercourse? Or do you mean 'grinding', like on the dancefloor? Do they still do that? Because, you know, I personally don't see anything particularly wrong...with a little bump and/or grind...
How would you like to be remembered...? Ya know, when you die.
At some point, we're gonna have a go at the World Hotdog Eating Championships. Maybe we can enter as a band. We're looking at the title. We're not particularly big, but we can put it away. And we've got major stamina. But anyway that, as I say, 'in the pipeline'...
Just Peachy Jeremy!
Here listen..
"Mad Dog"
Credit:
Photography of the Band by
Harriet Turney